Sign up for our
newsletter
Martemianovo
The company owns marketable land plots, mainly, for individual house construction, in the Narofominsk district just 27 km from the Moscow Ring Road and near Martemianovo village. Moscow-Kyiv route is easily accessible by public or personal transport.
The total area of housing and infrastructure construction, including land bank development is about 229 ha.
Project commenced: Q2 2005.
Location
How to get there
Drive along the Kyivskoye highway 25 km from the Moscow Ring Road. Past Aprelevka, follow the road signs, U-turn under the bridge driving 2.5 km back towards Moscow and then turn right off Kyivskoye highway following the sign. Then take the main road into Martemianovo cottage community. The Sales Office is marked with flags.
Show on map Show on Yandex.Maps
News
Infrastructure
The area is surrounded by beautiful woodland accessible by footpaths, and also boasts fully-equipped recreational areas (parks, lakes, playgrounds, sports grounds, pavilions, etc.). We in addition plan to construct a large mall on the designated site with stores, restaurants, a café, sports center, swimming pool, as well as a school and kindergarten.
In Detail
Specifications
The project concept envisages the multi-phase construction of modern business and middle-class estates;
Stage I of Martemianovo project provides for the sale of 153 land plots between 0.2—0.5 ha without a contract for construction in place All land plots come with access to physical and utility infrastructure;
Business-class estate construction is supplied through the modern wooden-house construction technologies of Viceroy Homes Limited, the Canadian frame-panel housing provider (www.viceroy.com);
Stage II of Martemianovo project provides for land plot construction of 69 houses of 350 sq m on plots between 0.2—0.3 ha ready for interior finishing set within a total area of 24 ha.
Section has not been found.
Contacts
For more information about Martemianovo, please contact us on:
+7 (495) 221-22-33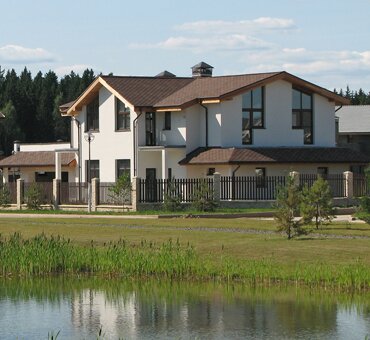 Pestovo
Situated 22 km from Moscow by Dmitrovskoye highway in the Mytischi District, the premium-class Pestovo estate sits on the scenic banks of Pestovo reservoir. The estate covers about 129 ha, of which 50 is woodland.